Triage
Fix the money hemorrhaging in your sales funnel with diagnosis and prescription.
Radio silence, poor open rates, and zero click-through activity doesn't have to be your reality every time you send out an email to your subscribers. It's possible to send emails that your audience just can't get enough of, the kind that even gets them to click reply and give you feedback so you know just how pleased they are with the value of your content.
And let's talk about that landing page that doesn't seem to be resonating with your audience. You know the one (looking at you landing page with a poorly positioned offer and the .001% conversion rate to prove it).
Sometimes you're too close to the problem to be able to see the solution. You're passionate about your offer (as you should be), but that can get in the way of you addressing the pitfalls, the elements getting in the way of you making bank.
Or maybe you just don't have the time or expertise to tackle it. But to leave the problem unattended is to leave your business vulnerable to waste and lost revenue. You need Triage for your sales funnel.
Funnel Triage is a great way to get some help right way.
Unlike the CPR Sales Funnel Blueprint™ that is completely custom and takes 8 weeks, the Funnel Triage has a turn around time of 5 business days. That means you'll get the help you need quickly. (We all know time is money).
Funnel Triage
I'll audit your sales funnel – (email sequence capped at 8 emails), your landing page, and your lead magnet/offer – and make recommendations that you can take action on right away to see improvements.
For your email sequence, I'll audit subject lines, CTAs, email content, and time between emails in the sequence.
For your landing page, I'll audit page copy, page flow, CTAs.
I will also provide feedback on the relevance and appropriateness of your lead magnet based on your target audience and your product/service.
NOTE: I will require access to the emails, your email service provider, and any customer data and research you have.
INVESTMENT: $595
I have a proven track record of helping clients get more customers and increase sales using
email marketing

,

landing pages

and optimized

website copy

.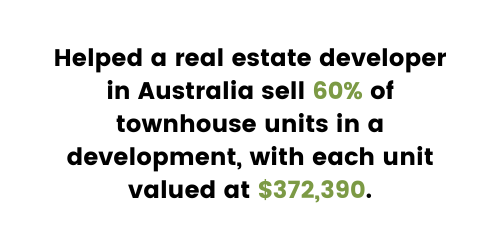 Your Funnel Triage will include:
A video review of your email sequence, landing page, and lead magnet with recommendations to improve conversion.
A customized mapped email sequence with up to 8 recommended emails based on the goal.
Recommended changes for your landing page and lead magnet.
Are you ready to breathe new life into your business?
Here's what happens after you click the button to sign up for your FUNNEL TRIAGE.
Step 1
You'll be redirected to a payment page to secure your slot right away. (No need to join a waitlist or apply!)
Step 2
Once you've completed payment you'll receive a confirmation email with an intake form with instructions on how to share the information and/or files I need for the audit. That will include emails, landing page url, opt ins etc.
Step 3
I get to work combing through your funnel [lead magnet, landing page, emails]. You'll receive your diagnosis and prescription within 5 business days.
Step 4
In 5 business days you'll receive your diagnosis and prescription which will include your video recording, recommendations, and action steps.
"From the first job Anna did for me I knew we would be a great fit.
In talking with her she understands me and my needs. Most importantly, she doesn't just write for me. She makes recommendations and drives my marketing strategy. She's my secret weapon."
Pamela | Wagglingly Nutrition
"I highly recommend Anna for your marketing needs. She has an intuitive design sense and takes a truly holistic view on projects. She was even able to suggest a better way for some of the ideas I had.  It was truly a pleasure working with her. I can't thank her enough!"
Nicole | Nicole Wright Empowers