Copy that sounds like your brand.
Marketing strategy that aligns with your goals.
Take the guesswork out of conversion with a data-driven approach to your copywriting and email marketing.
It's time
For you to level up.
To find and connect with more of your people
To get them excited about your offer
So they can buy your product/service
So you can make more money doing what you love.
Because let's face it. Passion is great.
But try taking it to the grocery store or using it to pay a bill.
It's not legal tender in the real world.
This means money matters if you're serious about doing this thing you love.
And you've got something special. Really special.
But what's the point if no one knows it?
What's the point if all the awesome people you're dying to serve can't find you?
You need some help. The serious kind. The kind that gets results.
I'm Anna, the Inbox Whisperer  and I write high converting copy and demystify email marketing and sales funnel strategy for e-commerce brands, coaches, and online service providers who want consistent revenue. 
Which means you want me on your team if we're going to make that dream a reality.
You know the one… 
Where your product sells out as soon as you launch and your AOV increases.
Where you've surpassed your MRR goals 3 months running.
Where your course sells out every single time.
Where your service-based business just closed 3 new clients on retainer in 1 month doubling your original revenue goal for the month. And it's only the 15th!
Where your customers and clients are ecstatic about your offer and can't wait to tell their friends, family, and colleagues about you.
All thanks to the power of conversion copywriting and sales funnels.
I have a proven track record of helping clients get more customers and increase sales using
email marketing

,

landing pages

and optimized

website copy

.
I've written email campaigns that: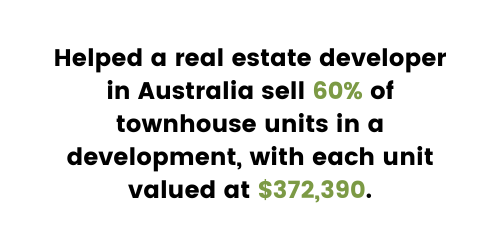 BUSY ONLINE SERVICE PROVIDER
Running an online business is challenging. Which doesn't leave a lot of time for things like 'marketing'. In between showing up on social media and serving clients, where are you supposed to find the time to craft a funnel and write copy for emails and sales pages?
One thing's for certain. You need to find the right copywriter to help you connect with your customers. Someone who'll meet deadlines and doesn't need to be micromanaged. Because time is already limited. Someone who will write copy that sounds like you and connects with your ideal clients.
AMBITIOUS HEAD OF MARKETING/AGENCY FOUNDER
Juggling tasks as an agency founder or head of marketing is difficult enough without adding more tasks to your plate. You need a contractor who is going to make your life easier by meeting deadlines, killing it at their craft and helping you craft a stellar client experience at every stage of the customer lifecycle.
And that requires the right talent—a copywriter who understands how to take your OKRs and translate those into actionable steps, one who has experience in a startup/agency environment, who understands the lingo and the tools your team uses. Because this outsourcing thing isn't supposed to turn into another job.
ENTHUSIASTIC ECOMMERCE BIZ OWNER
You have great products that you're passionate about and maybe you even have a VA who helps keep the wheels turning, but you still need the right person to help you attract more customers and close those sales with the help of web copy and email.
You're turning a profit but it could be better. You need a secret weapon to take your brand from getting by to thriving and profitable. This brand is your baby and you need it positioned right so the right people you've been called to serve can find you.
You want to focus on your zone of genius and leave the rest to an experienced professional.
You need someone who understands your needs; someone with experience doing what you need to get done; someone who feels like a business partner and not just a random person you hired to write words and send emails; someone who'll take this seriously. Because this is important to you.
You need me.
I am not for everyone, but if you see yourself here, then I'm ready to channel my Inner-Inbox Whisperer to get you results and boost your bottom line. Because doing what you feel called to do shouldn't just be fun. It should also be profitable.
"From the first job Anna did for me I knew we would be a great fit.
In talking with her she understands me and my needs. Most importantly, she doesn't just write for me. She makes recommendations and drives my marketing strategy. She's my secret weapon."
Pamela | Wagglingly Nutrition
"I highly recommend Anna for your marketing needs. She has an intuitive design sense and takes a truly holistic view on projects. She was even able to suggest a better way for some of the ideas I had.  It was truly a pleasure working with her. I can't thank her enough!"
Nicole | Nicole Wright Empowers
You can also reach me by email – hello@afiwimarketing.com.