Keep your current customers happy
with conversion email copywriting & customer experience strategy.
Is your brand making the maximum impact? It'll only take a minute to find out.
Everybody's selling something.
Which means it's infinitely harder for you to sell your something.
Your business is leaking profits while your competitors are growing by leaps and bounds. They're utilizing their email list and selling to their subscribers for less than you're giving Facebook, Google and Instagram in ad spend every time you want to get eyeballs on your offer.
You need help and you need it NOW.
You need someone who gets you, someone who can turn the ideas in your head into words that connect and get people to buy what you're selling.
More importantly, you need an expert – someone who knows their way around inboxes, landing pages, and websites; someone who understands how to craft the kind of customer experience that turns buyers into advocates and raving fans. Because while customer acquisition may be part of your action plan, the real strategy is in retention. 
I'm Anna.
I use my passion for email marketing and customer experience strategy to make money for my clients.
If you're interested, I can do the same for you. I'll write emails that turn your subscribers into loyal fans; the kind that makes them add your name to their favorites in their inbox, the kind that makes them click through to your offer and buy.
My copywriting skills, talent for research, and my sales, marketing, and customer experience background are the perfect blend that will deliver measurable results for your brand.
Want to learn more about me?
I have a proven track record of helping clients get more customers and increase sales using
email marketing

,

landing pages

and optimized

website copy

.
I've written email campaigns that: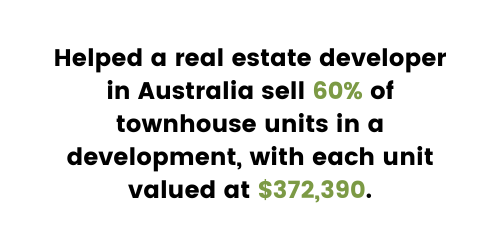 BUSY AGENCY OWNER
Your business is doing well, growing faster than you expected. Which, let's face it, is a good problem to have.
Except, now you need to find the right copywriter to help you deliver on all your projects and keep your clients happy. Someone who'll meet deadlines and doesn't need to be micromanaged. An extension of your team without the headaches. And that's no small feat.
AMBITIOUS ENTREPRENEUR / CONSULTANT
You offer a great service that you're passionate about and maybe you even have a solid team that rallies around you, but you just need the right person to help you generate sales.
This brand is your baby and you need it positioned right so the right people you've been called to serve can find you. And that's easier said than done.
OVERWORKED SOLOPRENEUR / CREATIVE
You're a one (wo)man show. You're doing it all but not very well. In fact, you could use a breather. But good help is hard to find…
You know your product well but you can't seem to figure out how to position your brand so your customers are eager for more. Plus there's the unrelenting question, 'Can email really help me sell more paintings/books/sweaters/jewelry/photography/makeup…
There's no denying you need help and you need it fast.
You need someone who understands your needs; someone with experience doing what you need to get done; someone who feels like a business partner and not just a random person you hired to write words; someone who'll take this seriously. Because this is important to you.
You need me.
"From the first job Anna did for me I knew we would be a great fit.
In talking with her she understands me and my needs. Most importantly, she doesn't just write for me. She makes recommendations and drives my marketing strategy. She's my secret weapon."
Pamela | Wagglingly Nutrition
"I highly recommend Anna for your marketing needs. She has an intuitive design sense and takes a truly holistic view on projects. She was even able to suggest a better way for some of the ideas I had.  It was truly a pleasure working with her. I can't thank her enough!"
Nicole | Nicole Wright Empowers