These are trying times.
Most of us are holed up at home struggling with kids (how do teachers even do it?), fighting to keep our online businesses profitable, barely managing to stay awake or focused for the 8 hours our day jobs require or barely remembering to put pants on for those video conference calls (the struggle is real).
In the middle of all this, distractions are good and we're grateful for all the unsung heroes on social media and in our lives who keep us laughing through this pandemic that otherwise threatens to ruin us.
But before you dissolve what brain cells you have left spending all your free time on TikTok (I'm not knocking it, it keeps me entertained too), Twitter, Instagram, Youtube, good old Facebook and any other platform I'm not young enough or hip enough to know exists, consider watching SELF MADE on Netflix.
What is SELF MADE you ask?
Netflix's SELF MADE is a 4-part miniseries biopic based loosely on the life story of Madam CJ Walker, America's first self-made female millionaire, and haircare mogul.
Now we're not going to spend today going down the road of how much Netflix got right or wrong. We all know directors and filmmakers take certain liberties when making these biopics.
Whether this story is wholly true or not, for sure, there are lessons you can take from the film as you work on your side hustle or full-time project.
So pull up a chair and let's get right to it.
1 – Lead with your story.
When Sarah Breedlove first tries to sell Addie's hair grower no one knows who she is or cares about the product. In one of the earlier scenes of episode 1, she is standing in a market shouting, "50 cents a tin. Get Magical Hair Grower right here!" But no one is really interested. 
Then a young lady asks if it works and she tries something different. She decides to lead with her story. When she starts talking about her own experience using the hair grower women start paying attention. They stop to listen and a crowd starts forming.
"That's one hell of a story." the young woman says, "Give me one tin." Then other women start chiming in. "Me too," "I'll take one!" "I can't wait to try!"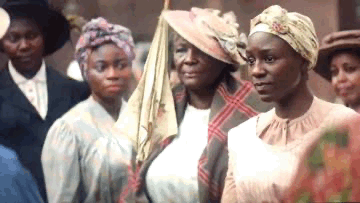 Your offer is no different. In order to really get the attention of your audience and get them interested, you should lead with your story. Humanize your brand and make yourself relatable.
While discussing an ad for her hair grower she tells her husband CJ, "Work in my story, make it personal. Add some testimonials or something. Folks will take a chance on my product if they believe in me." 
2 – Sell the benefits of your product or service.
When she moves to Indianapolis and starts promoting her hair grower, Sarah has a hard time getting customers. Once again, she is unknown in a new community.
She goes to the market and takes up a spot. Then she begins, "Sisters, let's talk about hair."
She starts talking and sure enough, a crowd starts forming because she's sharing something relatable. She really grabs the attention of the women when she starts talking about the benefits of the product. "Want a better station in life? Need to make more money? Let me show you how!"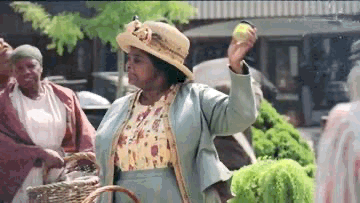 She even goes as far as to offer a free hairdo to one bystander and makes her product about the community. "If you look respectable, we all look respectable." She continues, "If I can help one person I'm lifting us all up"
"Wonderful hair leads to wonderful possibilities," she closes. "Now who wants wonderful opportunities?" Just about every woman takes a tin.
3 – Distinguish yourself from the competition.
It's ok if other people are offering the same product or service that you're offering. Never let that deter you. Instead, use it as an opportunity to distinguish yourself from the competition. 
Sarah could've decided to give up on the idea of selling hair care products simply because there was competition, but she didn't do that. Instead, she moves forward with her dream and finds a way to outshine her competition by creating a superior product and using marketing methods that resonate with her buyers.
As you work on your business, it will be easy to get distracted by the competition as you play the comparison game. But it's important to stay focused on your business. Work on delivering the very best product or service and distinguish yourself with your story.
4 – Make them an offer they can't refuse.
When Addie shows up in Indianapolis to open her own salon and compete with Sarah, her back is against the wall so she decides to do something extreme and take matters into her own hands.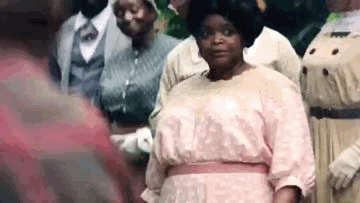 Right after Addie announces her salon services during the Sunday service, Sarah announces in the churchyard that God just sent her a divine message (a little extreme and difficult to validate but we'll give her the benefit of the doubt). She uses the opportunity to remind her customers who've been using her product that it works. She also announces a BOGO offer plus free hairstyling for the first 5 women who show up to place an order. Once again, her customers take her up on her incredible offer and the orders roll in.
5 – Don't let setbacks stop you.
Madam CJ Walker (She begins the series as Sarah Breedlove but eventually changes her name in episode 2 at the suggestion of a client. CJ Walker was her husband's name.) faces many challenges on her journey to becoming the first self-made millionaire in America.  
Between their home that doubles as a salon burning down, investors refusing to work with a woman, another potential investor attempting to rape her, her husband sabotaging a meeting with other potential investors, her staff walking away to work for the competition and so many other challenges, she pushes on anyway. Every single time. And she gains a remarkable legacy for her efforts and tenacity.
Running your business will be no different. Whether it's promoting a challenge that no one signs up for, spending money on ads that yield no returns, struggling to find clients and customers, there will be setbacks. But the only way to find success is to keep going regardless.
6 – Don't be afraid to dream big. 
Madame CJ Walker had big dreams that didn't make any sense to the people around her. Her ambitions seemed lofty to her husband who was content with their previous life.
Your dreams and goals most likely will be no different and that's ok. The people in your life don't need to understand your dream because it's yours and not theirs.
So you need to be passionate about it, even when no one else understands or supports you.
It will be difficult but if you really want it you have to keep pushing.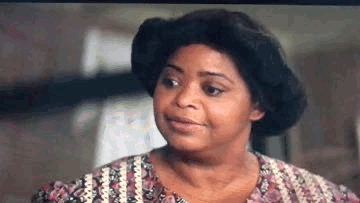 In one scene, Madam CJ Walker dreams wistfully, "…there's 3 million negro women in America. If I can get 'em all to buy just one jar of Hair Grower I'll be a millionaire." And she was right.
There are many more gems scattered throughout the film but I'll leave a few of them for you when you watch. Catch it on Netflix but don't forget your notebook. There'll be a ton of teachable moments so be prepared to take notes.
Madam CJ Walker used a well thought out marketing strategy to get her products to her ideal customers – colored women who looked like her. Every story, ad, pitch and investor conversation was based on these ideal customers, and every business decision she made was made with them in mind. Of course, she was only able to do this because she was crystal clear on who she was selling to.
Which is a big part of any marketing strategy.
And once you decide to make email a part of that strategy you will need to get clear on who your ideal customer is so you can come up with the right strategy to attract them to your mailing list.